View
Challenges and Choices: The Transition Out of Grade Twelve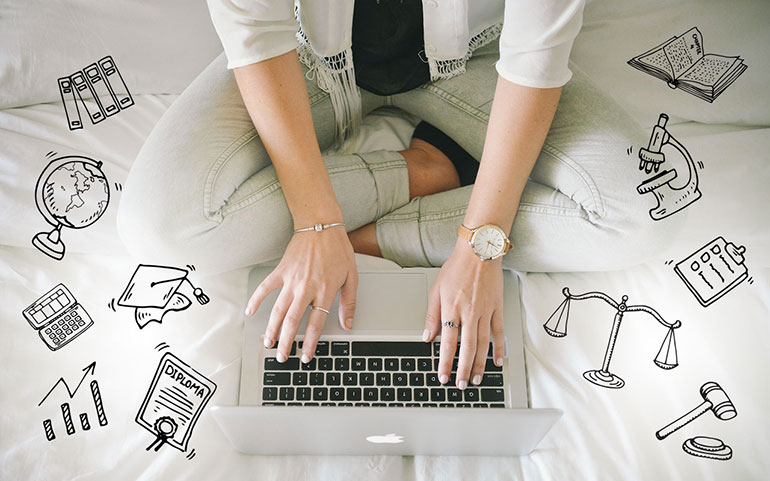 Some moments are destined to be life-changing. These moments, and the circumstances surrounding them, are often accompanied with an acute awareness of just how much gravity they hold. Personally, I am currently facing one of these moments – completing my final year of high school and transitioning to post-secondary education. This process is one accompanied by much contemplation, decision-making, and ups and downs.
The choices I will make around my educational future are undoubtedly the most important that I have been faced with in my life thus far. These are choices that require immense self-reflection, including my interests, goals, and educational past.
I find myself considering the most important factors that have shaped me—both academically and personally—and beginning to decide how I want these factors to continue to contribute to my future.
As I reached the senior grade levels of high school, I was asked more and more frequently about what I was planning on doing after graduation. I have always planned to go to university, though I was not always entirely sure at which school or in which program. I love a wide variety of subjects, and never felt as though there was a sole educational or career path I was destined to follow. There are so many options available for post-secondary students today, which is great. It is amazing that I have so much choice in determining what and where I would like to study, and so many degrees are easily personalized and adaptable to one's specific interests; however, the more choices there are, the harder it is to decide.
Many schools and programs may sound fantastic, but it can be difficult to determine if it is truly the right fit without yet being able to actually experience it.
With regards to programs specifically, it can be overwhelming picking a single subject or area of study to focus on. Throughout high school, I have always studied four subjects at a time, each covering different material. The concept of studying a single subject, for at least four years, is very different for me. I am currently looking at business, law, and general arts programs. I am leaning towards these areas of study as I feel I would be able to learn universally applicable skill sets in these programs without having to narrow my focus to precisely or quickly.
Deciding which school to attend is both easier and harder. On one hand, once you know what sort of programs you are looking at, the reputation or availability of those programs at certain schools can help guide your decision. Further, if distance or travel is a concern, schools outside of your geographic range are removed from consideration. Personally, I would prefer not to attend school on the opposite side of or outside the country, so I am not considering schools that would require me to take a plane to visit home. While there can be limiting factors on school consideration, it is still a difficult decision.
There are so many great schools out there, with nearly all of them offering enticing student services, extensive extracurriculars, and welcoming communities. Ultimately, it seems as though the decision comes down to what environment will complement you best as a person, as it is nearly impossible to deem schools simply "good" or "bad".
The sheer amount of paperwork involved in applying for post-secondary education is a tad overwhelming. This is a process that requires a significant amount of time, as well as great attention to detail. Applying for university and preparing for everything else that comes along with it is nowhere near a one-step process. Many schools require supplementary applications alongside general applications, and completing all applications require transcripts and other paperwork. There are an immense number of scholarships, both school-specific and general, available to students. This is fantastic, as these scholarships provide students with opportunities to be financially rewarded for their hard work throughout high school. There is no reward without effort, however.
Most scholarship applications require students to demonstrate organization and initiative skills, not just within the body of the written application, but in the completion of the application itself.
By this I mean that without properly applied time-management and organizational skills, it can become very easy to miss application deadlines or components. While it is very important that all ts are crossed and all is are dotted when it comes to university and scholarship applications, the opportunities that may come about as a result of these applications are entirely worth it.
What I have found to be the most important sentiment to remember throughout this process is to make these decisions for myself. Ultimately, I am the one who will be attending the university, studying the program, entering the workforce with the degree, and living the experience I choose. There can be a lot of pressure to choose a school or program based on others opinions. Many students feel as though they should attend a prestigious school to appease or impress their family, friends, or society at large. I truly believe, however, that students, myself included, will be most successful if they make choices that are right for them, not right for others.
The transition out of high school to one's next steps is a process that every grade twelve student has to undergo, so it is comforting to remember that everyone is in the same situation as I am.
I have found that there are plenty of resources and support, friends included, to help students make it through this process. While it can be an overwhelming and stressful time, I also recognize that this is a very exciting chapter of my life, and I am looking forward to continuing to enjoy this ride.
Share on Facebook
Share on Twitter
Share on Pinterest