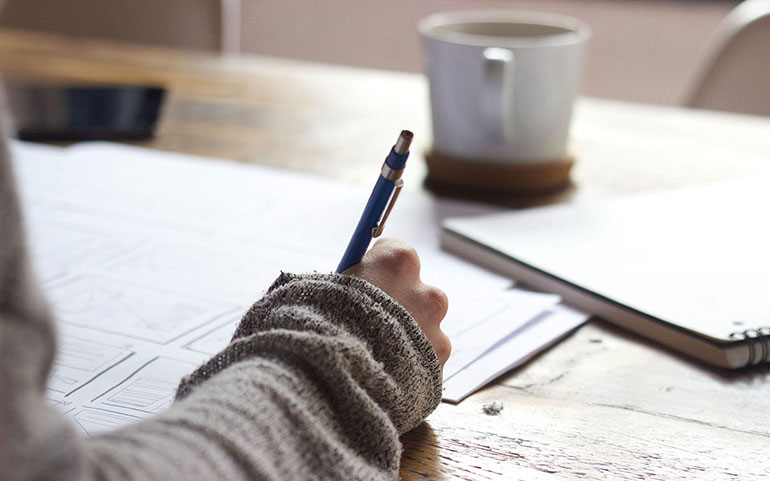 View
A Student's Perspective on Homework: Necessary, Evil, or a Necessary Evil?
"Today's homework will be…," "We will complete the rest of this handout for homework…," "The majority of work on this project will have to be completed at home…." These phrases, and similar others, are things I have heard on a near-daily basis throughout my time as a student. Like many of my peers, I also found myself dreading them. Homework is an integral part of any student's school experience, mine included.
As I wrap up yet another school year, I am reflecting on homework's importance. Has it been a necessary tool in my academic journey? Or is it an outdated, pointless tactic of academic evil?
Almost every student has probably thought homework to be a waste of time at some point in their lives, and I am no exception. I have found that certain aspects involved in the homework process require a lot of effort without providing much academic payoff. Spending hours gluing together a poster or trying to format a second line indent have not made me better at science or a more proficient writer. The formatting and assembly often involved in homework assignments are, quite simply, tedious, and not something that I believe improves my abilities as a student. What these experiences have taught me, however, is that seemingly tedious and futile work is often necessary in creating a finished product. Further, I have even found academically beneficial homework to be unproductive at times. In situations where I already have a strong grasp of the material, doing countless homework questions can feel pointless. These are the times when I find I have to decide how to best use my time and sometimes that means not doing all of those homework questions.
Homework has helped me to learn a number of important life skills. For most of the homework I am assigned, if I do not get it done, there will be consequences. Therefore, homework has predominantly helped me to develop time management skills.
When balancing homework for a number of classes, extracurricular activities, and personal and social obligations, I must prioritize and divide my time accordingly. In order to get everything done, I have learned how to be efficient. Further, homework has taught me to be responsible for completing my own work and has helped me in developing collaborative skills whilst working on various group endeavours both in and outside of class. Homework has also helped me to learn an unfortunate reality of life: sometimes, no matter how much you don't want to do something, you just have to do it anyway.
Even if I don't always want to do homework, I do acknowledge that it has consistently strengthened my academic abilities. In certain subjects, such as math, where you have to learn a technique or formula, homework can be extremely useful. The repetitive nature of doing homework question after homework question may be tedious, but ultimately, I have found that it does a fantastic job of keeping the information in my brain. Practice is a great way to learn, and in situations like this, homework is simply prescribed practice. In writing and research based subjects, such as English and history, homework has helped me to get a better grasp of the material and the world around me by taking a deeper look at it. In nearly every subject, from the sciences to the arts, homework can be helpful in becoming better at the subject, or gaining further insights into the information being learned. Ultimately, by extending my exposure to the subject, homework will help me to perform better.
In recent years, I have noticed that my school has put more effort into acknowledging and accommodating different learning styles. This includes offering different ways for students to complete assignments and teaching in multi-dimensional ways that target auditory, visual, and kinesthetic learners. I have noticed from personal, firsthand experience and through observations of my friends and peers that providing students with different, personalized ways to learn is immensely beneficial.
Homework can become stressful, however, when there seems to be more of it than hours in the day. I attend a semestered school and have to balance four classes each term. When you put together day-to-day homework, larger assignments, and the time required to study for tests and evaluations, the amount of effort required can really add up. In my school, and at most high schools, students will usually have a different teacher for each subject. Since the teachers are not responsible for the entirety of any student's academic schedule, it is up to the students to organize their time so that they can tackle responsibilities from each class. As a result, the time commitment required to do well in each individual subject can be rather significant. Oftentimes, I have found myself having to choose between academic success and personal commitments, and have had to sacrifice time put towards recreation and hobbies in order to get everything done.
When I find the time to do my homework, I do reap the benefits. Homework has been a way for me to test-run my knowledge and abilities before evaluations. By doing my homework, I am able to discover where my strengths and weaknesses lie within the subject, allowing me the opportunity to get help and focus on the areas in which I need improvement. I do not always enjoy homework, but it is much better to find out that I do not understand a certain concept while doing homework as opposed to finding out in the middle of a test.
On the whole, homework seems to be a sort of necessary evil, something that can be a bit of a pain, but ultimately, is beneficial. The role of homework in my life has had a number of benefits, and has improved my skills and abilities both within and outside of the academic spectrum. I believe that like any good thing, homework is best in moderation. Take it too far, and it can become overwhelming, but get the balance just right, and homework is a greatly useful tool on the road to success.
Feel free to share your thoughts on or experiences with homework in the comments below!
Share on Facebook
Share on Twitter
Share on Pinterest